Great Ranges Fellowship + AAC Member Trips
Whether you are into extended backpacking trips, technical routes, or glacier travel, we have something for you.
As a Club, we understand how important it is to travel and climb with friends, new and old, that share the same outdoor values, passion, and ethics. AAC members embrace the same spirit and mission across every climbing discipline.
Each trip includes a bit of AAC swag and some serious fun with your fellow members before, during, and after the trip. Each trip is coordinated with a trusted AAC guide service partner.
save these dates!
SOLD OUT! BASE CAMP—Red Rock, NV
April 2019
Current GRF members can sign up for any of these trips or suggest new trip ideas to: [email protected]
Almost 3 months ago I opened an email announcing the AAC's Great Ranges Fellowship Red Rock trip. Having gotten back into the mountains and climbing after a 25+ year absence this was a great opportunity to climb outside of the guide/client relationship I'd relied on the previous year. Hopefully I'd further develop my atrophied climbing skills, possibly meet some potential climbing partners, and certainly exchange stories with peers.
From our arrival to departure everything was well hosted and organized by AAC staff and CEO. Carol and Phil and Sarah were superb hosts at our rented Summerlin home. Our first day featured multiple top rope setups to get prepared for the next 6-7 days of climbing. That evening Sarah prepared an amazing meal for the group (followed by another mid-week.) Day 2 many of the participants took a "Lead Climbing & Anchors" Class which Carol had organized for us participants in advance. The remaining days people partnered up or employed guides while any without partners were invited along and not left out.
Overall, the week was amazing. As expected, the level of camaraderie was high for a diverse group of 13 with a common passion for the Mountains. Personally, I couldn't have gotten anymore out of the trip. By the end of the week I'd led a few moderate climbs and upped my top roping ability. I heard and exchanged stories with equally experienced to more storied climbers. More importantly, I met people who I hope I'll climb with again especially those who live in areas where I often travel (I've already scheduled one date with a fellow Climber and hope to with another in the future.)
I hope the AAC got out of the trip what they were hoping for as it would be great to see more of these trips. If one of the purposes of these trips is for membership retention, I can honestly say it's made me a member for life.
Peter Lambeth
Petoskey, MI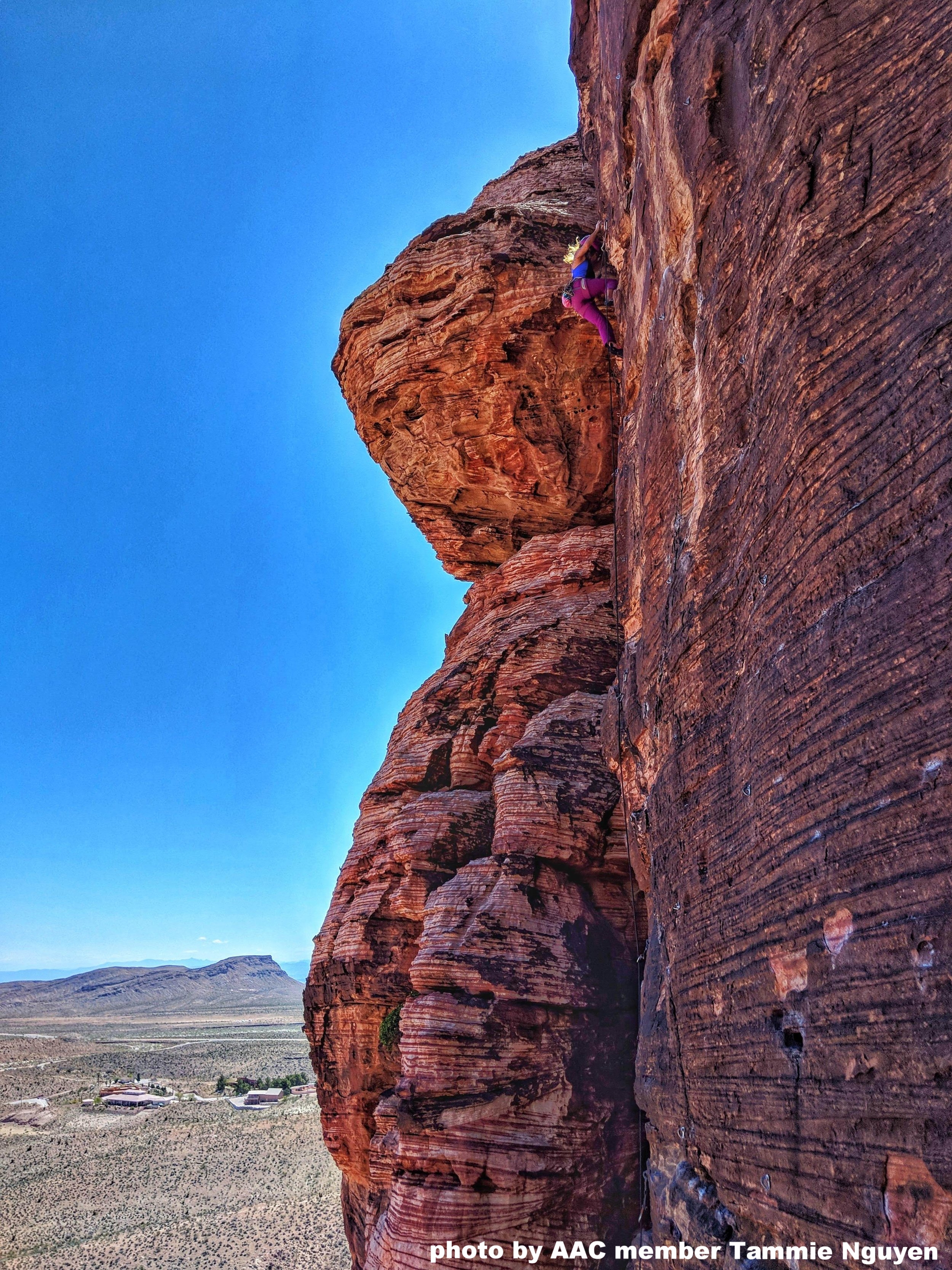 I learned and achieved more than I imagined through connections made from the AAC Red Rock Spring Fling Base Camp. Lead for the first time outside on a 5.10b, sent my first multi-pitch, nearly sent a 5.11b, learned to crack and trad-climb, and to repel and solo. All eight days were filled with laughter, learning, and breathless moments that were fueled by blossoming connections with fellow AAC members and the gorgeous natural landscape. In addition, I had the opportunity to spend quality time learning from, cooking and climbing with AAC CEO Phil and his wife Sarah. I walked away with an expanded network of friends and climbing partners. I've since climbed in Utah and Washington with folks I met at this base camp and can't speak enough about the opportunities afforded to me by making the decision to participate.

Tammie Nguyen