Miriam O'Brien Underhill, 1898-1976
by Sallie Greenwood
Miriam O'Brien's enthusiasm for mountains, whether in New England, the Alps, or the Rockies, spanned more than fifty years. In 1926 she had "glorious fun" on a multi-pitch route on the Punta Fiames, in the Dolomites, following guides Angelo and Antonio Diami; in the 1930s and 1940s she gleefully wrote about grizzly bears met in trackless wilds of Idaho and Montana to friends in Europe, and in 1966 described with good humor an unintended rainy night spent in Maine woods that sparked a rescue effort.
Emily O'Brien, Miriam's mother, took daughter and son Lincoln to Chamonix and Zermatt in 1914, the first of many visits to climb with guides or hike on their own. Their last trip as a family was in 1932. Between 1914 and 1938, Miriam amassed a hundred guided and guideless climbs in the Alps, and ski tours, too. Between 1929 and 1932 she made nine climbs with women only as partners—cordée en féminine.
When not climbing or skiing in Europe, Miriam skied, snowshoed, hiked, climbed, bouldered, and top-roped with Boston area Appalachian Mountain Club friends, friends for a lifetime who were experienced and well-traveled Alpinists. Among them was Robert L.M. Underhill (1889-1983), an advocate of guideless climbing, whom she met in 1926 and would marry in 1933. Others among this active group of AMC members were Dean and Florence Peabody, Fritz Wiessner, Marjorie Hurd, Kenneth Henderson, Margaret Helburn, Elizabeth Knowlton, and Avis Newhall.
Miriam was a student of mountaineering history and read accounts of routes, noting times and weather and documenting feminine ascents. She admired Gertrude Bell for her two-day 1902 attempt on the Finsteraarhorn, a route Miriam climbed in 1930. She asked Rolanda Eötvös about her Dolomite climbs, and the Hungarian baroness replied, listing her "naughty" manless climbs with sister Ilona between 1907 and 1914.
In 1929 Miriam announced to friends among the Groupe de Haute Montagne that she wanted to assume the entire responsibility for a climb, to "enjoy…pleasures of leadership." The climb would have to be manless, which she defined as not only without a man on her rope, but that there be no man in the vicinity to give unsolicited advice. British climber Nea Morin, herself a leader, first met Miriam in 1926 and credited her, in the context of 1930, as "the chief innovator of feminine guideless parties."
Marriage to Robert Underhill, in January 1933, ended Miriam's career of manless ascents but not leading. They shared leads. They also shared interests as writers, editors, hikers, and skiers for the next forty-three years. As long-time friend Christopher Goetz wrote: "The marriage fused so perfectly that it became difficult to distinguish their hopes, plans and achievements individually."
Robert introduced Miriam to the American West to enjoy the challenges of exploring new vertical terrain: in Wyoming the Tetons (1934) and Wind River Range (1939), Idaho's Sawtooth (1934, 1935), and Montana's Swan, Mission, and Beartooth ranges (1946-1950).
Miriam didn't slow down. She and Robert climbed the 46, 4,000-foot peaks of the White Mountains in winter and Miriam climbed the hundred highest New England peaks, the first person to pull off both feats. She gave animated lectures using her own slides, enthusiasm and the moment sometimes tilting toward exaggeration.
Miriam published her autobiography Give Me the Hills (1956) and expanded it in 1971. She died in 1976 and Robert in 1983, the year the American Alpine Club established the Robert and Miriam Underhill Award, recognizing them as pioneers and annually honoring men and women who represent mountaineering excellence.
Above images are from the 1956 and 1971 editions of Give Me the Hills by Miriam Underhill. (1) 1956 book cover, (2) Miriam on Ago di Sciora photographed by Adolf Rubi, 1971 ed., (3) Miriam taking pictures from a small pinnacle in the Aiguilles Rouges at Chamonix. Photo by Florence Peabody from 1956 ed., (4) "Descending a snow ridge on the Mönch on our manless climb," photo by Micheline Morin, 1971 ed., (5) "On a gendarme in the Mittlegruppe of the Engelhörner," photo by Adolf Rubi, 1971 ed.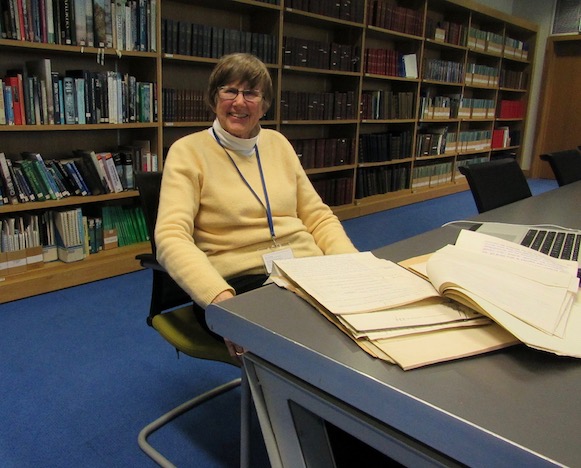 As a climber Sallie Greenwood has been curious about women who lent their names to routes. Who was Jan [Conn] of Jan's Face at Carderock? Bonnie [Prudden] of Bonnie's Roof at the Gunks? Irene [Ortenburger Beardsley] of Irene's Arête in the Teton's? Thus began research for Women in High Places: Six Pioneers of the Vertical World of Mountains and Cliffs. The quest has led to archives in London and Kansas for Victorian Elizabeth Le Blond, Providence, Athens, and Brooklyn for Annie Peck, Worcester and Edinburgh for Fanny Bullock Workman, Idaho's Sawtooth Range for Miriam Underhill, journal searches for Nea Morin, and to Brussels, Paris, Geneva, and Carmel to meet friends of Claude Kogan. Pictured here, Sallie is researching at the Royal Geographical Society's Library in London, 2016.
Click here to find a list of books about and by Miriam O'Brien Underhill found in the AAC Library.