Kendra Stritch: Team Manager
Kendra Stritch made history in December 2014 when she became the first American to win a UIAA Ice Climbing World Cup Medal. This historic success arrived on the speed wall in Bozeman, Montana. Stritch, a Minnesota native and currently based in Minneapolis, began climbing in 2006, ice climbing that winter, and joined the UIAA World Cup in 2012. Working full-time as a Strategic Project Manager for manufacturing, she is also a board member of USA Ice Climbing. She enjoys all disciplines of climbing but you can tell there's a little extra passion for ice and competition. Stritch has been a competitive athlete since the age of 9 and is always seeking out new competitions and new sports. She loves the strategy and commitment that are required by competition, as well as the camaraderie of fellow competitors. Stritch takes motivation and inspiration from the support of local and international communities; she is passionate about sharing her knowledge through mentorship and coaching of anyone who's psyched to learn and have fun.
Competitions: Moscow, Cheongsong, Hengshui City, Saas-Fee, Rabenstein, Champagny-en-Vanoise, Denver Kirov
Corey Buhay
I'm originally from Atlanta, Georgia, but moved to Colorado in 2015 after college and a brief stint studying salamanders at the University of North Carolina. I was working as a journalist when I attended the Ice Climbing World Cup in Durango in 2017 on assignment. My first impression of the sport hovered somewhere between fascination and horror, but, ultimately, the athleticism and skill of the competitors and the welcoming community won me over. I met a few friends at the World Cup and later at the Ouray Ice Fest who taught me how to climb, and I've been involved in the sport ever since. I've competed in speed climbing at the Ouray Ice Fest and dry tooling at the CityRock Ice Fest. I currently work as a writer and editor in Boulder.
Competitions: Denver
Lindsay Hastings
Lindsay Hastings likes to joke that she was always destined to be an ice climber. Between frequent family trips to Colorado, and even taking her first steps as a baby in Rocky Mountain National Park, she developed a fondness of the mountains from an early age. Despite growing up in Minnesota, she ironically didn't discover her passion for ice climbing until she moved to the deserts of New Mexico just two years ago. Lindsay got her start as an ice climber by winning a guided ice climbing trip to Ouray in a silent auction. After just a few runs up the ice, she was hooked. By the end of that season, she took third place in her first speed ice climbing competition. Shortly thereafter, she moved to Colorado to live and train closer to the mountains and world-class ice climbing. Lindsay works as a Hydrologic Technician for the U.S. Geological Survey, with most of her field work taking place in Estes Park, Colorado. When she's not working in the field, you can find her chasing her next thrill in the mountains through climbing, mountaineering, trail running, and outdoor photography.
Competitions: Rabenstein, Champagny-en-Vanoise, Denver
Angela Limbach
Angela Limbach grew up in Brookfield, WI and started rock climbing in 2004 as a freshman in high school, climbing almost exclusively in the gym. She did not discover ice climbing until she started college through the University of Wisconsin-Madison's 'Hoofer Mountaineering Club' (HMC) in 2009. After spending her early climbing career almost exclusively in a gym, the opportunities to get outside on real rock and ice that the HMC afforded became a major focus in her life. In the last couple of years, Angela decided to dedicate far more time and effort into ice season. With zero prior dry tooling experience, she tried out competition ice climbing for the first time in 2017 placing 2nd at the Great Lakes Mixed Competition in Fenton, MI. Because of this experience, she built her own training structure and competed in her first World Cup competitions during the 2018 season. She later placed 2nd in the North American championships held in March of that year.
By day she leads a team of data analysts at the software company, Zywave, located in Milwaukee, WI and spends evenings instructing at the local climbing gym, Adventure Rock. During the warmer months, she takes clients out rock climbing with Devils Lake Climbing Guides and is an AMGA certified Single Pitch Instructor. Angela cares strongly about giving back to the climbing community and in January 2018 was elected as a board member of the Wisconsin Climbers Association--an organization that promotes stewardship, access, and community in partnership with the Access Fund. She has also volunteered as the clinics coordinator over the past two years for the American Alpine Club's Craggin' Classic held at Devils Lake, WI, bringing professional athletes, local guides, and community members together to hone skills and deepen knowledge. Angela is proud to be able to compete in her second World Cup season this year and can't thank her friends, family, community, and mentors enough who have helped support her.
Competitions: Cheongsong, Hengshui City, Denver

Mikayla Tougas
Mikayla Tougas (born December 15, 1998) is a rock and ice climber from Upstate NY. She has been rock climbing since 2012. In 2016, Mikayla became the Collegiate Sport Climbing National Champion. She then proceeded to compete with the USA team at the University World Championships and the Youth World Championships in China (placing 10th and 15th). Mikayla has accomplished several outdoor ascents of 5.13c and v11. She has recently used her rock climbing background to help her transition over to the ice and drytooling scene.
In January (2018), Andrea Charest introduced Mikayla to drytooling. Mikayla went on to compete at the Smuggler's Ice Bash (placing 2nd) and the Connecticut Ice Festival (placing 1st). In August, Mikayla started training outside, and climbed her first D11's. The following month, she traveled to Quebec and got the first female ascent of First Blood M11. Mikayla is excited to see how far she can push herself in ice climbing/drytooling. She is honored to have the opportunity to share her passion for climbing while representing the USA Ice Climbing Team.
On top of her athletic career, Mikayla commits a lot of her time to her family, academics, and work. She is a honors student at SUNY Adirondack Community College. Mikayla is also working to obtain her pilot's license and become a certified EMT. Mikayla currently volunteers as a firefighter and runs her own private coaching business.
Competitions: Denver

Angela Tomczik
Angela Tomczik grew up hiking and backpacking in Bishop, California. Moving to Colorado to study mathematics at CU Boulder, Tomczik spent her weekends traveling across the Western US on climbing trips including regular visits to the Ouray Ice Park. She started competitively mixed climbing in 2014 and competed in both difficulty and speed at the Durango Ice Climbing World Cup competition in 2016. Today, Tomczik works as a Statistical Analyst and enjoys spending her free time in the mountains—climbing, hiking, running, skiing, and volunteering for the local search and rescue team. This season she'll be expanding her competition experience with the USA team in difficulty and speed at the French, Italian, Swiss, and United States Ice Climbing World Cups.
Competitions: Saas-Fee, Rabenstein, Champagny-en-Vaoise, Denver
Catalina Shirley
Catalina (Cat) Shirley has been a competitive member of the USA Youth Ice Climbing Team since 2016, and is stoked about participating in her first adult World Cup in Denver this year! She represented the country in both France and Liechtenstein for the Youth World Championships and is also looking forward to adding Finland to her list this March. Her climbing began on rocks 8 years ago in sunny southern California, but after moving to Colorado and getting on the tools, she fell in love with ice climbing and drytooling. Currently she resides in Durango, CO where she is a junior attending Animas High School. On the off-chance Cat isn't climbing, you may find her traveling, eating chocolate, complaining about cardio, or communicating with foreign athletes she's met over the years. Catalina is psyched to be a member of the 2019 USA World Cup Ice Climbing Team, and can't wait to give it her all in Denver this year!
Competitions: Denver
Claire Poppendeck
Claire grew up in Plymouth, Minnesota where she developed her climbing skills on a rope in her backyard. She started rock climbing three years ago during her sophomore year of college. She is currently a senior at the University of Minnesota Duluth and is studying special education and elementary education. Claire was an alpine ski racer for many years and just recently discovered the sport of ice climbing. Last year, she competed in the UMD Drytool Competition and the North American Ice Climbing Championship. She also competed in several rock climbing competitions including some within the Wisconsin Indoor Climbing Series. This will be Claire's first World Cup.
Competitions: Denver
Amity Warme
Amity is a 25 year old Colorado native but did not start climbing until she left her rock barren homeland for college in Texas. She was immediately captivated by the vertical world upon introduction to rock climbing and has sent several 5.13c's. Amity lives full time in a Ford Transit cargo van that she and her husband built out themselves and thrives on travel, adventure, and trying really hard while climbing! Fun fact, Amity only picked up ice tools a total of four times before competing in (and placing 1st in) CityROCK's annual IceFest this past November.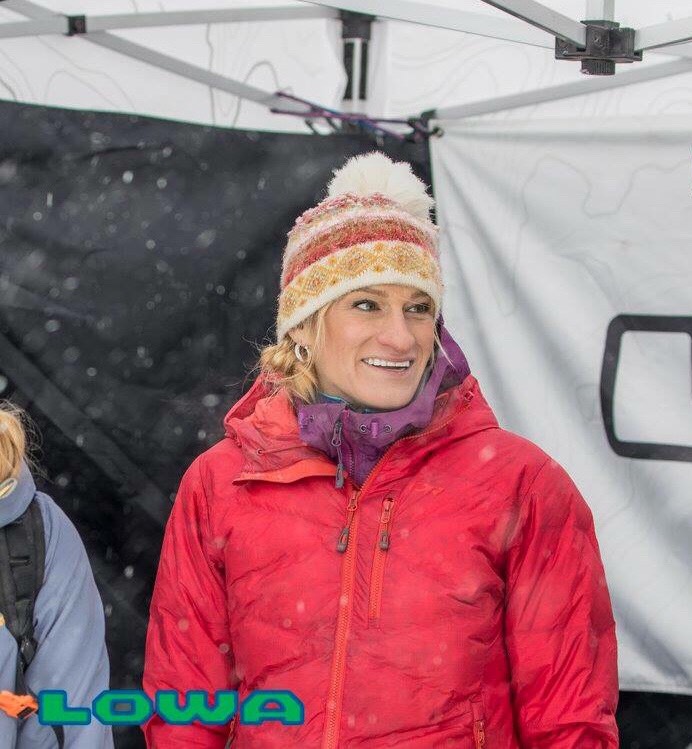 Beth Goralski
Beth has been ice climbing for almost 20 years but it wasn't until she moved to Ouray Colorado in 2012 that she got the competition bug. Starting when the World Cup first came to the United States in Bozeman MT, Beth has competed in the World Cup for 3 years and Denver 2019 will be her 4th season competing in the WC. She's always humbled by the World Cup competitions and meeting athletes from around the world is one of the main reasons she competes. She hopes that her attempts at imitating the world's best motive a younger generation to take to their tools and have fun with this sport. When not competing, Beth loves finding mixed routes that allow her to link discontinuous blobs of ice and rock.